It's been two weeks now since my son started grammar school, the school we've wanted him to go to since he was a toddler. It's nearly a year since we heard he'd passed the all-important test and it felt like we'd waited forever for the big day.
So how is it going?
He was very excited to start, and I think that was half the battle. It was a huge step for him, as he was the only child going from his school. But the other kids were in the same position. They all needed to make new friends and they were all excited to be there.
He woke up on his first morning buzzing. He came home still buzzing.
He told us so much about school – the lessons, finding his way round, the lunch (readers of my previous post will be interested to know that we've opted for a cooked main meal with a snack from home at break time), the teachers and, importantly, the friends.
Two weeks on (is it really only two weeks – it seems like much longer) and he is still buzzing. He's going to bed well, getting up well and taking it all in his stride. The school's expectations of students are high, but he gets home and does his homework without complaining.
He has started his guitar lessons and is working towards his first performance. He has auditioned for the school play, been to after school rugby training and will be starting guitar group in a few weeks.
He talks about what he's achieved at school – and in a school of exceptionally high achievers it's hard to stand out – but it sounds like he's standing out in PE. He was the only child to reach the top of particularly tricky climbing wall and the only child to opt to do a bridge in gymnastics rather than opt for an easy way out.
He is consistently talking about the same kids from his class – he is definitely making friends and was already messaging one of them just a week after starting school.
His first couple of weeks have gone brilliantly and I couldn't be happier or more proud.
He isn't just settling in. He is throwing himself in.
If you're feeling Loud 'n' Proud of any achievements, big or small, this week, please add your post to the linky. Please display our badge if you'd like a share on Twitter.
And don't forget to play nicely! Don't just leave your link here and hope for lots of views and comments and not return the favour. Please comment on the host post and at least three others. We don't like to come over all head teacher-ish, but we've noticed that there are people who don't comment on others' posts and that's just naughty!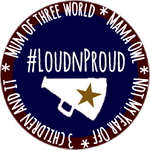 Next week Loud 'n' Proud will be hosted by the lovely Mama Owl.