Having three kids at three different schools was hard. My life was a constant juggling act. It was a jigsaw puzzle I could never entirely fit together. So I was VERY pleased to only have two schools to deal with this year – particularly as it meant I had three kids at grammar school.
Two schools would be much easier to deal with than three, right?
So far, it isn't.
Because I'm dealing with a school which is further away than either of the kids' previous schools. I'm also dealing with new beginnings – going into Year 7 and Year 12. The start of the school year is always the hardest part as everyone adjusts to the changes.
My younger son informed me his rugby would be on a Monday after school this year. Fine.
Then my daughter announced her hockey was on a Monday after school.
Of course they finished at the same time. In two different towns. So I had to find someone to pick my son up.
My daughter is under strict instructions that she is only allowed to do one after-school activity at a time. I don't have the time to drive to pick her up. I can't always find someone to give the others a lift. And I'm paying an absolute fortune for her to use a bus, so I want her to use it.
Then there was the realisation that my daughter's music lessons would be prohibitively expensive. Then my son's broken guitar string. But in replacing the guitar string, maybe I found my daughter some cheaper violin lessons? I'm still waiting to find out for sure.
I'm filling in letters and writing cheques. I'm checking emails and providing lunch money (the new school doesn't have online payments). I'm making sure the PE kits and gum shields are clean on the right day – and chasing up the PE kit I bought for my son last term which hadn't arrived by the start of term.
I'm hoping the majority of the letters and cheques have been dealt with and we will all start to remember what kit is needed on what day. At some point, I'm sure having only two schools to deal with rather than three will be easier.
We're just not quite there yet…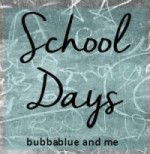 SaveSave
SaveSave