So my daughter has been at her new school a couple of weeks now. And it's felt like a complete whirlwind. On the one hand, I wonder where the time has gone to. On the other hand, it feels like she has been there forever.
It's hard to describe how immaculate she looks when she leaves the house every day. And how tiny she looks in her grown up clothes – especially next to her biggest brother who is at the same school.
She is so organised and takes so much pride in everything. Her homework is done as soon as it is set and her bag is packed the night before.
She made a couple of friends on her open evening and induction day. She discovered one of the girls was on Instagram, so they spent the summer messaging each other, which was really nice. Since then, more names have been added to the list – a wonderful list of lovely-sounding girls. I'm still getting used to never hearing boys' names any more.
She was FaceTiming one of them by day three and actually went to meet her in town the very first weekend. My heart nearly melted when she came off FaceTime and said to her 'Are we doing Dutch plaits tomorrow?'. She's not the most girly of girls, but she cares a lot about her appearance, particularly her hair. Her hair is part of what makes her stand out. She must love being surrounded by people who talk about hair and who agree on hairstyles with her.
Every day, she comes home with endless stories of what has happened at school. It is all so new and exciting for her – the friends, the teachers, the building, the bus, the lunches, the new subjects…
The timetable is busy. It's a two week timetable and in that time they manage to do DT, food tech, textiles and art, as well as all the academic subjects. At my son's school, it was an either/ or for DT and tech. The downside is, they don't do as much PE as I'd like – two lessons one week and one lesson the other week. But there are opportunities to join sports clubs. And you just know my daughter will sample all of them.
She has about half her lessons with her tutor group and she is mixed up with other groups for her other lessons. It means she is getting to know a lot of girls in her year. It also means she gets to see her two old friends from time to time and spend time with them.
The teachers ask if anyone has a sister in the school. There are just a handful of boys in the 6th Form. It is VERY unusual, possibly even unheard of, for a girl in Year 7 to have a brother in Year 12.
'Have you got any siblings?'
'Yes, a brother.'
'No, I mean at this school.'
'Yes, he's at this school.'
I am hopeful that being at the same school will help build on their rather unstable relationship. It's early days, but I think things may be improving between them. They might not like each other, but they will protect each other and in their own way they're both proud of each other.
The 'worst part of the day' is the bus journey, which is pretty long. The bus is shared with a boys' grammar school and one of her best friends goes there – and one of my son's best friends does too, so they at least have people to talk to. As you can imagine, the journey is a bit stop-start and sometimes my daughter feels slightly travel sick. I'm hoping ultimately it will help cure her.
I'm so happy my daughter has settled in well. Her new school is everything I hoped it would be and more. I absolutely love watching her walking to the bus stop with her brother every morning and look forward to them getting home so I can hear all their stories.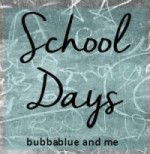 SaveSave
SaveSave